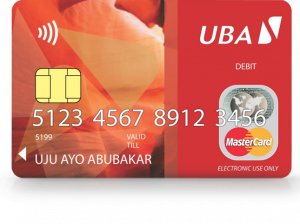 The UBA Debit MasterCard is a debit card issued on your account in Liberia. Therefore, you can use your card anywhere in the world. You can travel anywhere you want, stay wherever your heart desires and shop online as much
as you wish. This is what we mean by, 'Roam Your Money'.
UBA Gold Debit MasterCard for Domiciliary Account
Get access to your money anywhere in the world with the UBA Gold Debit MasterCard for Domiciliary Account, which also enables internet purchases wherever the MasterCard or Maestro logo is displayed. UBA's Debit MasterCard for Domiciliary Account products are tied to card holders' domiciliary accounts, instead of Liberian Dollars current or savings accounts. They offer the same flexibility in usage anywhere in the world, including Liberia, and any of the 1 million MasterCard-enabled ATMs in over 210 countries, as well as purchases at over 31 million merchant locations worldwide. All transactions carried out with  the MasterCard for Domiciliary Account are debited from card holder's Dollar USD Account, depending on the currency in which transactions are consummated.
Access your money anywhere with the UBA Visa Classic® Debit Card, which includes making purchases for goods and services wherever the Visa logo is displayed (POS, Web). You can make withdrawals at any of the 2.1 million Visa enabled ATMs in over 200 countries and purchases at merchant locations where Visa is accepted worldwide.
UBA Debit Card® User Guide
If your Debit/Credit Card is lost or stolen, please contact us immediately:
Find out how UBA keeps your information safe and secure. Learn how to safeguard your personal information or report fraud. If you suspect fraudulent activity or receive a suspicious email please contact our dedicated helpdesk immediately
Using your Card Abroad
Please let us know if your travel plans take you outside your registered country. That way we'll be expecting to see foreign transactions on your Card, and you can continue to use your Cards for purchases and to withdraw money. If for any reason you are unable to use your Card, please contact us immediately. Call our Customer Fulfillment Centre
+231 881 510 000